<Corporate Profile>
Message From the President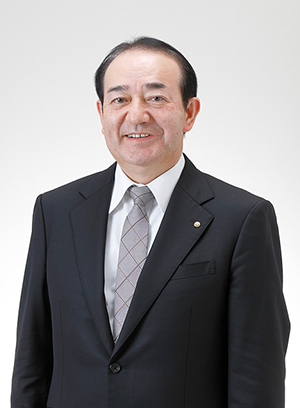 President
Minori Mori
TAKARA SHUZO INTERNATIONAL
TAKARA SHUZO INTERNATIONAL CO., LTD was founded in July 2017 splitting up from TAKARA SHUZO CO., LTD., intending to accelerate the Japanese Food Wholesale Business in overseas markets and Overseas Alcoholic Beverages Business as a member of TAKARA GROUP, which conducts a business dealing with alcoholic beverages, seasoning and biotechs.
In the overseas market, global interest in Japanese food has been sparking on the back of growing public awareness over dietary concerns and addition of "washoku", traditional dietary cultures of the Japanese to the UNESCO list of intangible heritage. Regarding those market situations, TAKARA SHUZO INTERNATIONAL GROUP expand Japanese Food Wholesale Business in overseas markets, in which we supply Japanese restaurants and food retailers overseas with Japanese food products, and Overseas Alcoholic Beverages Business, in which we export sake and other alcoholic beverage products made in Japan as well as overseas manufacture and sales.
As the overseas Japanese food market is expected to keep growing, we aim to become the leading company in the market and spread appreciation of the Japanese food culture to the world, bringing the authentic Japanese products not only food but traditional alcoholic beverages such as sake or shochu.
In this regard, we would like to receive your continued support from you all.
Corporate Profile
Trade Name
Takara Shuzo International Co., Ltd.
Head Office
20 Naginataboko-cho, Shijo-dori Karasuma Higashi-iru, Shimogyo-ku, Kyoto 600-8688, Japan
Company Representative
Minori Mori, President
Business
Group company management, export of alcoholic beverages and seasonings
Established
July 3, 2017
Issued Capital
¥10million
Account Settlement
March 31
Major Shareholder
Takara Holdings Inc. (100% equity owned)
Board of Directors and Auditors

| | |
| --- | --- |
| President | Minori Mori |
| Director | Masumi Uetsuji |
| Director | Masaharu Watabe |
| Director | Mutsumi Kimura |
| Auditor | Teruaki Mitsui |
| Auditor | Yoichi Suzuki |
| Executive Vice President Managing Officer | Kazuyoshi Ito |
| Executive Officer | Yoichiro Miyakuni |
| Executive Officer | Masatoshi Ohata |

TEL
+81-75-212-5074
FAX
+81-75-212-5098
Overseas Offices

● London Office  
33 Cavendish Square, London W1G 0PW United Kingdom


TEL

+44-20-7297-2013


FAX

+44-20-7182-4040
● Paris Office 
27, rue Nicolo 75116 Paris, France


TEL

+33-1-7303-2239


FAX

+33-1-7303-2238

URL
http://www.takara-intl.co.jp/